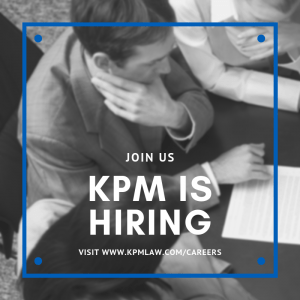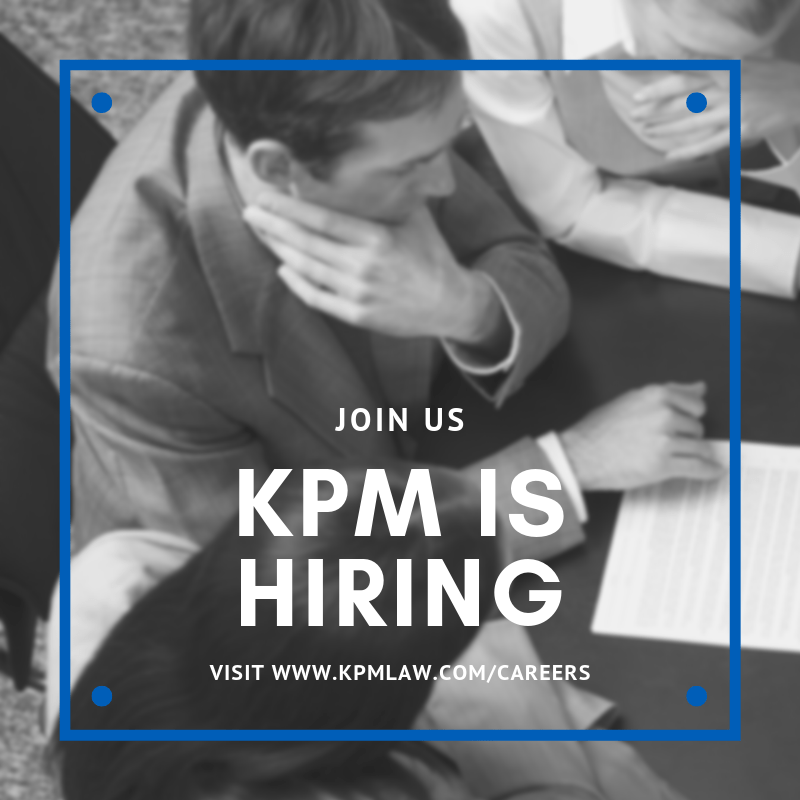 ASSOCIATE ATTORNEY – Richmond,VA
KPM Law seeks highly motivated Virginia-licensed attorney for its Richmond office. 0-2 years' experience preferred, but candidates with other levels of experience may apply. Must have excellent legal writing and speaking skills. Full benefits provided and will be discussed in more detail with top candidates. Please have a positive attitude and strong interpersonal skills as position involves insurance and corporate client contact. Please submit resume and salary requirement to brian.cafritz@kpmlaw.com.
ASSOCIATE ATTORNEY – Fairfax, VA
KPM Law has an immediate opening for a new associate attorney in the Fairfax office of our rapidly growing workers' compensation defense department. This position requires 1-4 years workers' compensation experience. We are looking for someone dynamic who can assist with handling a large volume of cases under the supervision of a partner. The position requires licensure in Virginia, but Maryland and D.C. licensure is a plus as is knowledge of Prolaw. Must have the ability to multi-task. Send resume, salary requirements and references to Francie.Georges@kpmlaw.com.
LEGAL ASSISTANT – Richmond, VA

KPM LAW is seeking a legal assistant with 2 – 4 years' experience to join our Workers' Compensation Group. We work in a team environment and are looking for someone who has experience with Workers' Compensation cases, who is energetic, highly organized, detail-oriented and able to adapt to a fast paced environment. The successful candidate will work with three other legal assistants, but will manage a full caseload of their own under the supervision of three attorneys. If interested, please provide a resume with at least two references and salary requirements to Francie.Georges@kpmlaw.com.